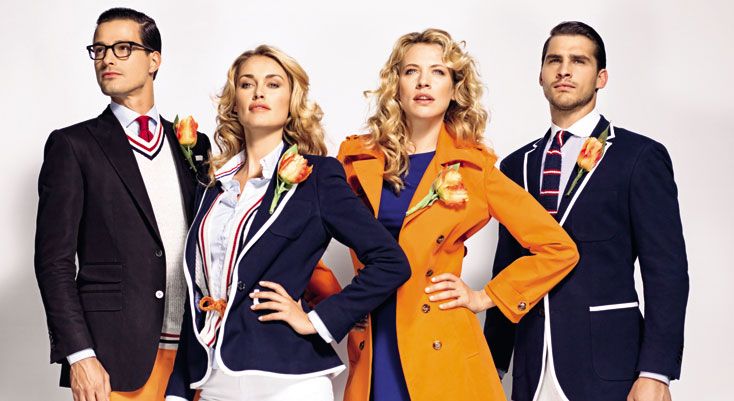 Dressed for Victory
Suitsupply is more than inspired by the Olympics, we are involved. It's the third time in a row for Suitsupply to act as the official supplier as the Dutch Olympic and Paralympic team.
Mini Collection
Head of Design, Murray Coetzee created a versatile mini collection for the Olympians, ensuring the squad doesn't look like a uniformly dressed army. Suitsupply opted for playful gear, making them stand out with their variety. The primal colours of the mini collection are those of the Dutch flag: red, white and blue. Shying away from using too much orange, Suitsupply chose to add solely orange accents.
The attires feature tributes to quintessential English sports such as tennis and cricket. For both men and women there is a white cricket cable knit with trimming in the hues of the Dutch flag. For the men there are blue striped shirts and knitted ties. Sexier than a regular pantsuit is the mini dress in a strong blue colour for the female athletes, inspired by Emma Peel from the British TV-series The Avengers.
Included in both male and female ensembles is a dose of healthy English humour, by adding an over-sized silk tulip, emphasizing the Dutch-ness.
Ally Pally
To bring out "the Orange feel", a term the Dutch use to refer to their patriotism, Suitsupply has organised for a pop-up store to make an appearance at Holland Heineken House. The Heineken House is a place for Dutch supporters and fans to come together and watch the Olympic Games. The location of the triple H is Alexandra Palace, in North London, or Ally Pally as the locals refer to this historic venue. The pop-up store will sell specially designed merchandise.
Watch this video to see what inspired us while designing the Olympic mini collection!