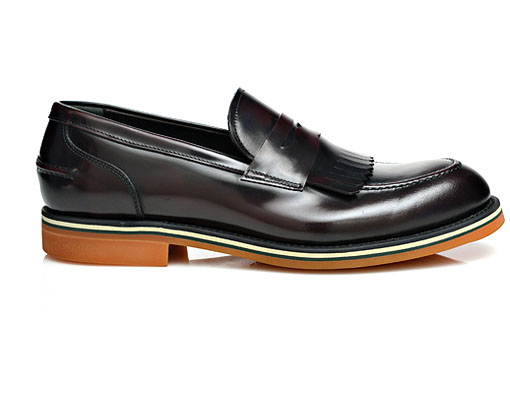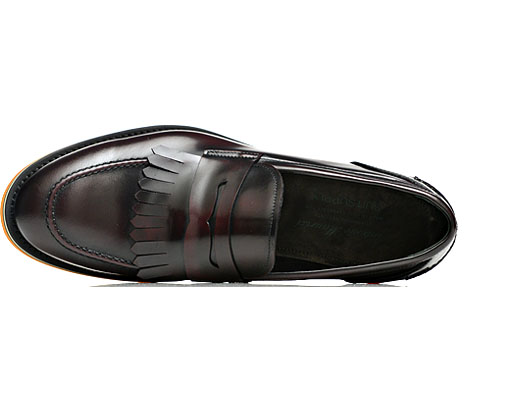 OXBLOOD KILTIE LOAFER
$ 249
OXBLOOD KILTIE LOAFER
$ 249
This shoe is the result of the collaboration between Suitsupply and Antonio Maurizi. This fringed penny loafer holds a duotone rubber sole and is executed in smoked bordeaux leather. These statement shoes are only for those with fashion acumen.

Line

Antonio Maurizi for SuitSupply

+

Antonio Maurizi for Suitsupply

Suitsupply and Antonio Maurizi have merged their creativity.
One of the most refined Italian shoemakers created six exclusive models interpreting current fashion and fused them with Suitsupply DNA.
The shoes are made using refined materials, Italian craftsmanship and extreme attention to detail.

Care Tips

Break your shoes in by only wearing them for a few hours rather than a whole day to gain an optimal foot imprint in the cork sole. It is advised to never wear your shoes for more than one or two days in a row. For shoes to remain in shape we advise to keep them with shoe trees, preferably cedar wooden trees as the wood will absorb the moisture. Suede shoes are best kept when brushed with a special brush. Regularly treat suede shoes with a protective spray. Leather shoes need to be polished not only to retain their colour but also for the leather to remain supple and prevent it from drying out.
Free shipping for orders exceeding $500

2 to 4 business days delivery

anywhere in the world
Free returns