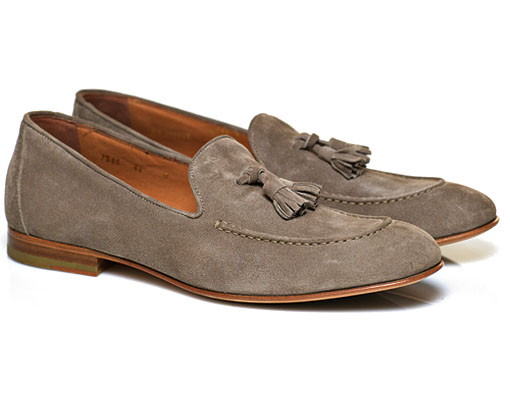 CLICK TO ZOOM
TAP TO ZOOM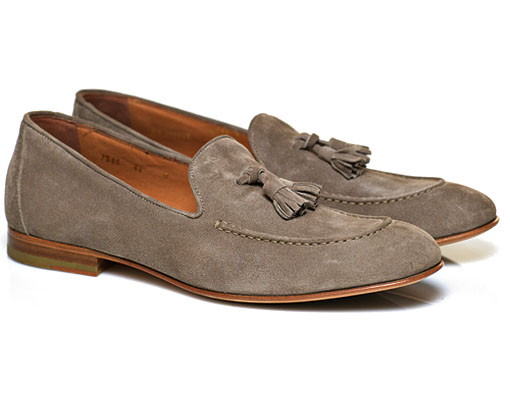 Taupe Loafer
$269 USD
"(out of stock)"
This pair of Antonio Maurizi Italian calf suede loafers is best described as elegantly carefree. Perfect for the spring, they feature durable and lightweight Blake stitch construction, calf leather lining and tassel, all in a soft taupe shade.

A Blake stitch is made by directly stitching the outer sole to the insole, making for a very flexible and lightweight shoe. Blake-stitched shoes with a very thin sole, such as a loafer, require virtually no break-in period. However, depending on the upper leather, you might find that there may be a needed period of softening up of the upper.

Line

Antonio Maurizi for Suitsupply

+

Care Tips

We've put together a few tips to help you keep your new pair of shoes in good condition:

Leather shoes should be polished at least once a month
If shoes become wet, allow them to dry naturally away from direct heat
We recommend using a cedar or beech wood shoe tree
Avoid wearing your shoes for more than one or two consecutive days
Get an optimal imprint on the cork insole of Goodyear-welted shoes by wearing them for only a few hours at a time every other day or so, instead of long, consecutive days
For suede shoes, use a rubber suede brush to heavy stains and dirt may require treatment with a suede shampoo.
Please look for an alternative selection in our catalogue.
We're sorry, the item you've chosen is currently out of stock. Please contact Customer Care at 855 784 8464 or enter your email address above and we will notify you if more of this item becomes available.