About Our Suits

When it comes to finding the right suit, knowing what to look for can make all the difference. Learn about the quality details and hidden features we put into making our suits one-of-a-kind.
"Experience sartorial bliss with our collection of personally tailored suits."
Slightly arched chest pockets delicately complement the smooth silhouettes of our tailored cuts, while details like hand stitched, functioning buttonholes add the level of luxury that has come to define who we are. As a suit aficionado, it's always good to learn the ins and outs of a well-designed jacket.
STRUCTURE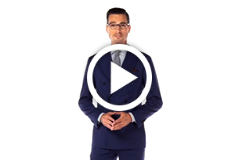 When it comes to our jackets, it's what's on the inside that counts just as much as the outside. A good jacket doesn't gain a smooth, rounded form naturally; it requires a layer on the inside to give it a nice curved shape and rich structure. In homage to old-school Italian craftsmanship, we use a thin layer of horsehair-reinforced cotton to line the inside of our suits. This canvas conforms to your body's shape, allowing a perfect fit and an elegant look.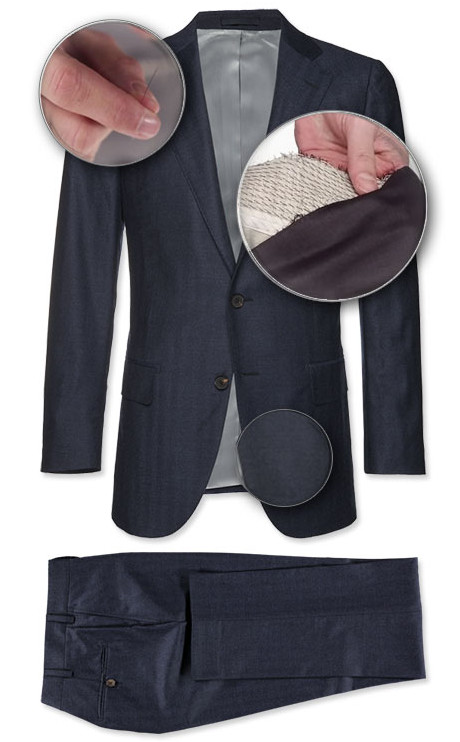 DETAILS
We put uncompromising care into the understated, and sometimes unnoticed nuances; because it's not only about the big picture, the details are what make the difference. Check out our different fits, and get to know every detail that makes them stand out.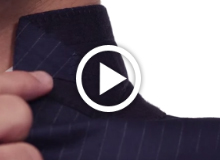 FABRICS
Our approach to fabrics is founded on our reliance on the world's most prestigious mills, a continuous innovation in blends and textures, and a commitment to using only the best natural material—be it the richest Italian wools or the finest Egyptian cotton. From Ferla to Vitale Barberis Canonico, to the celebrated centuries-old Thomas Mason, we've partnered with the most respected mills in the famed Italian weaving region of Biella.